Wrapping cold hands around hot drinks is the perfect way to warm up this winter. Hot chocolate or mulled wine… which will you choose?
So the weather outside may be frightful – but the drinks definitely can be delightful. And what better excuse to cosy up at home with a Christmassy drink to hand?
"Christmastime… hot chocolate and mulled wine…" We've got delicious Slimming World recipes for both – plus a new, wonderfully warming winter spiced coffee! With Slimming World, you can enjoy all the tastes of Christmas and still get a sparkly weight loss result on the scales!
Festive favourite hot drinks
Top tip: If you prefer, leave your hot chocolate untopped and stir with a marshmallow pop (add an extra Syn per serving) for an ooo-ey gooey treat.
Mulled wine recipe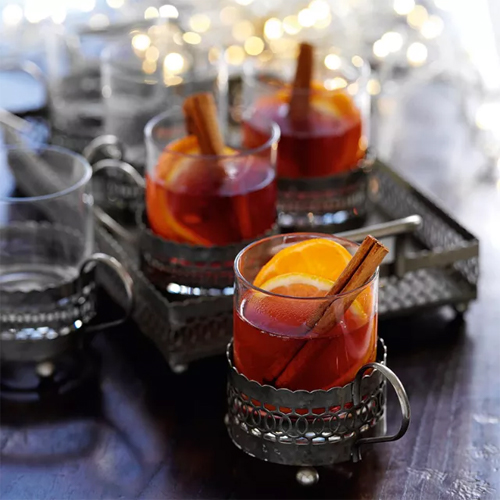 makes 15 glasses
ready in 20 mins
5 Syns per serving
What you need:
2 x 75cl (750ml) bottles red wine
25ml brandy or rum
grated zest and juice of 1 lemon
½ cinnamon stick
3 cloves
pinch of freshly grated nutmeg
1 level tbsp brown sugar
1 orange, thinly sliced
1 lemon, thinly sliced
cinnamon sticks, to decorate
What you do:
1. Pour the red wine into a large pan. Add 600ml water, the brandy or rum, lemon zest and juice, spices and sugar. Stir with a wooden spoon over a low heat, until the wine is hot and the sugar has dissolved. Important – do not allow to boil!
2. Transfer to a large heatproof jug (or a fancy heatproof punch bowl) and float the orange and lemon slices on top. Divide equally between your most festive glasses (pour or use a ladle) and serve with a cinnamon-stick stirrer.
Top tip: If you don't have special mulled wine glasses then latte glasses work perfectly – I've spotted them for as little as £1 each in the shops.
Winter spice coffee with a snowflake marshmallow
serves 1
ready in 10 mins
3 1/2 Syns per serving
What you need:
1 marshmallow
blue writing icing
your favourite black coffee (see tip)
pinch each of ground ginger, ground nutmeg and ground allspice
4 level tbsp squirty cream
1 level tsp candy balls
1 long cinnamon stick
What you do:
1. Sit the marshmallow flat-side up. Carefully draw a snowflake on the flat side of the marshmallow with the writing icing, then set aside.
2. Make up a mug of coffee, adding the ground spices as you stir.
3. Top with the squirty cream and candy balls. Pop the cinnamon stick into the mug to use as a stirrer and serve with the marshmallow on the side.
Top tip: You can add milk, if you like – either from your Healthy Extra 'a' allowance or count ½ Syn per dash of skimmed.
Credits: slimmingworld/blog