Be the ghost with the most this Halloween. Join in all the fearsome fun with our love-at-first-bite food and fa-boo!-lous party ideas!
Let's creep it real, Halloween can be tricky when you're trying to lose weight. Never fear! What's fang-tastic about Slimming World is that there's nothing scary about dipping into the Halloween bucket (apart from the little monsters that might come after you!). No food is banned, so you can fit fun-sized chocolate bars and low-Syn sweets into your daily allowance – and still slim spook-tacularly.
If you're getting into the spirit by throwing your own gruesome gathering, our Halloween ideas will help you throw the spookiest, slimming-friendly shindig in town!
MORE FOR MEMBERS: You'll find lots of ghoulish goings-on in your nearest Slimming World group this October. With a spell-book full of food and drink ideas, and magical support to get you through any weight-loss nightmares, we'll lift your spirits with a wanderful weight loss result!
Creepy crowd pleasers
Cooking for a crowd doesn't have to be a nightmare. Go for boo!-rilliant batch-cooking classics and they'll be dying to dig in. Bone-appetit!
Gruesome grazeboard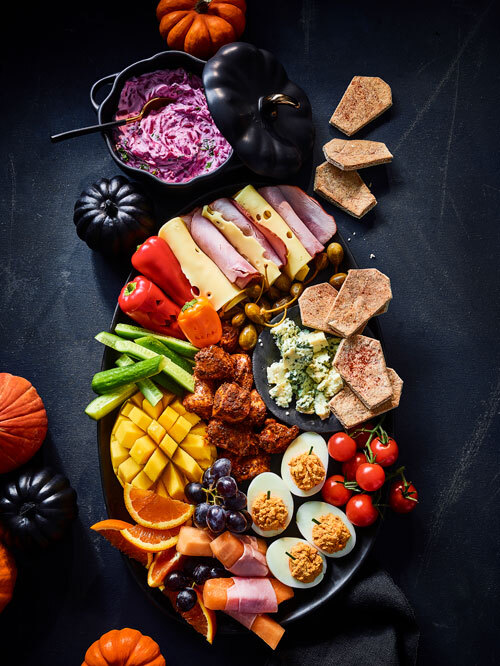 Dare to share this petrifying platter of slimming-friendly treats! Here's how we've made our spooky smorgasboard (which serves four)…
black grapes
blood oranges
mango
baby cucumbers
red, orange and yellow peppers
cherry tomatoes
caperberries
melon slices wrapped with ham (visible fat removed)
rolled-up lean ham (visible fat removed)
chunks of chicken tikka
cubes of Danish blue cheese
Emmental slices
wholemeal pitta bread cut into coffin shapes, toasted and sprinkled with paprika
devilled boiled-egg pumpkins – scoop out the cooked yolks, mash with paprika and fat-free natural yogurt and pop them back in the whites, then finish with a chive 'stalk'
beetroot relish – peel and grate cooked beetroot then mix with fat-free natural Greek yogurt, freshly chopped mint and a little seasoning
This spooktacular spread is completely Free on the Slimming World Food Optimising plan, if you count the cheese and pitta breads as your measured Healthy Extra choices.
This creepy-crawly yogurt bark is a chilling, thrilling Halloween treat.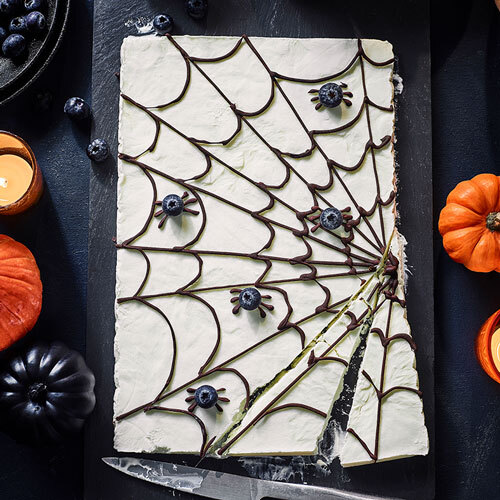 A fiery cauldron 
Put some fire in the bellies of your guests with a cauldron full of Slimming World chilli (a batch of veggie chilli will keep non-meat-eating monsters happy). If you don't have a cauldron in the back of your kitchen cupboard, a black casserole dish or slow-cooker pot will do!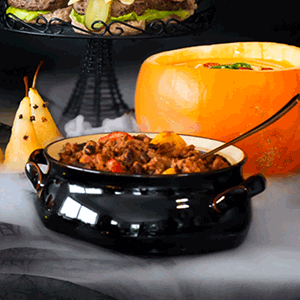 A pumpkin full of steaming soup is a guaranteed Halloween show-stopper. Get yourself a giant pumpkin and scoop out the guts and flesh (or get the kids to do it as a goo-ey, eww-ey Halloween activity!). 
If you're soup-er brave, you can serve your soup directly from the pumpkin shell (just make sure you leave a thick enough wall). If you're a bit of a scaredy-cat, you can pop a bowl inside the shell instead.
Slimming World sausages will go down a storm with spooks of all ages. Wholemeal bread rolls make hot dogs slimming-friendly for adults – and, if you'd rather avoid a sugary splatter of zombie blood (ketchup), you can make your own hellishly hot Free mustard by mixing a teaspoon of mustard powder with two teaspoons of water.
The invisible man has nothing on these chunky chicken nuggets – they'll disappear before your eyes! And the low Syn recipe means everyone can enjoy a finger-licking fright night. Serve with a stack of Slimming World chips and your spooky fakeaway feast is complete.
Unearthly eyeballs
These wobbly peepers aren't a trick – they're a terrifyingly tasty treat made using our vanilla panna cotta recipe! You could also pop an easy eyeball topper on a scoop of vanilla ice cream for little ghouls.
Cranberry coven cocktail
Hubble, bubble, toil and trouble… this brew will quench a thirsty witch at the double!
serves 4
1.5 Syn per serving
ready in 10 mins plus chilling
vegan
What you need:
300g fresh or thawed frozen cranberries
100ml orange juice
3 level tbsp sweetener granules
400ml chilled sparkling water or soda water
What you do:
1. Put the cranberries, orange juice, sweetener and 120ml cold water in your blender and blitz. Strain the juice through a muslin-lined sieve into a jug, then squeeze out every last drop: you should have about 400ml. Chill for at least 4 hours.
2. Divide the cranberry mixture between four glasses and top up with sparkling or soda water.