Easter is probably going to be a bit different again this year, as many of us are still unable to gather all of our loved ones around the table. While sadly we can't help with that, what we can do is supply some of our favourite Easter recipes, to help make the day as wonderful as possible for those you are able to share it with.
To get your day off to a cracking start, we've got two tasty breakfast ideas. Then take your pick between roast lamb and our vegetarian bangers and mash, with a hot cross pud or chocolate pots for dessert. An easy Easter menu that everybunny will love!
Hunger-busting breakfasts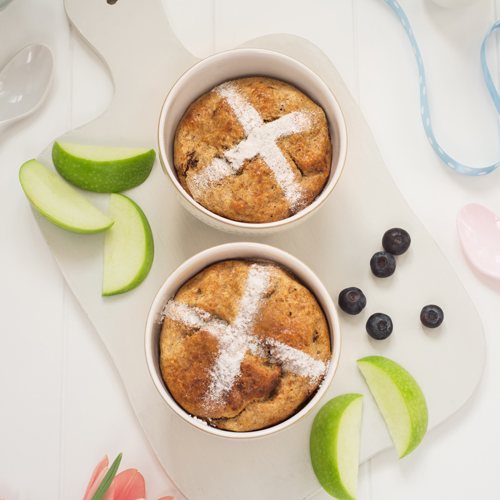 It just wouldn't be Easter without the taste of hot cross buns. A batch of these baked oats will hit the sweet spot and protect your weight loss.
Following our basic baked oats recipe, swap the raspberries for 25g sultanas (4 Syns) and add ½ tsp each of cinnamon, mixed spice and nutmeg before baking (Slimming World members can find the full recipe on the member website).
Dippy eggs with Slimming World soldiers
What better way to wake up than to some perfectly runny soft-boiled eggs* (a Slimming World Free Food)! Simply bring a saucepan of cold water to the boil, then reduce the heat. Place 2 eggs in the saucepan and simmer for 5 minutes.
And if you want to keep things Free with some healthy dipper options, try al dente asparagus, sugar snap peas, baby corn, roasted sweet potato wedges and griddled courgette strips. And if you like your eggs with bacon, give some cooked lean back bacon (visible fat removed) a dunk!
*Pregnant women, the elderly, babies and toddlers are advised to eat eggs showing the British Lion stamp if eating raw or partially cooked eggs.
Delicious dinners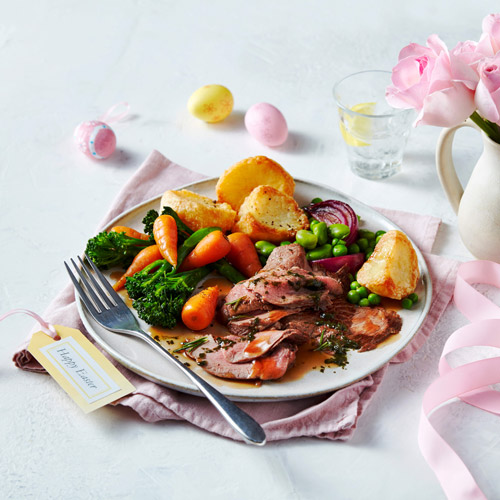 Love a roast? Our healthy Sunday dinner is complete with all the traditional accompaniments. Even better, any leftover lamb will make a delicious curry, stew or pasta dish for a quick and easy weeknight dinner or a working-from-home lunch option the next day.
This Glamorgan-stye recipe proves that sausages don't have to be meaty to be magnificent, and they come with a tangy, tasty tomato sauce too. Serve with mash – or borrow our roast potato recipe from the lamb meal above – and a pile of your favourite veg.
Perfect puds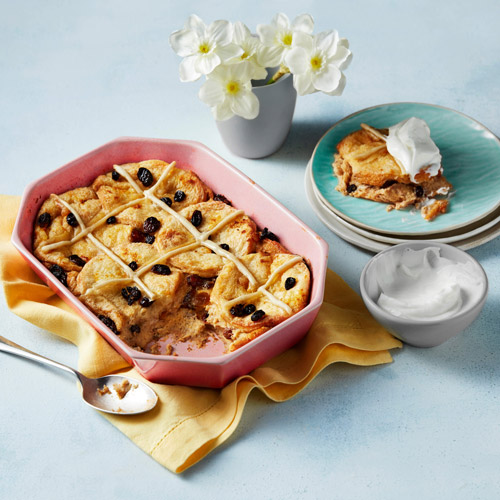 Protecting your weight loss doesn't have to mean missing out and, at Slimming World, dessert is definitely on the menu! This indulgent pud is a lovely way to top off your Easter meal.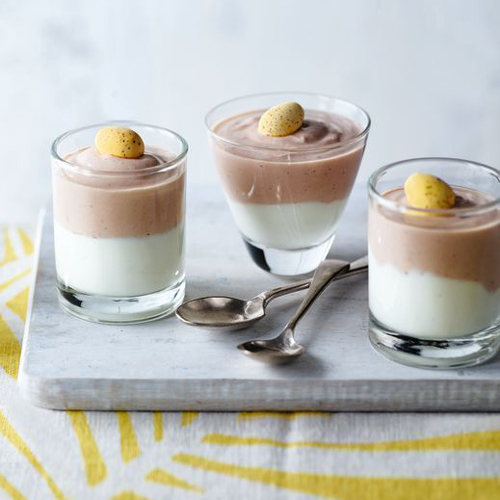 What's Easter without chocolate? These sweet treats are slimming-friendly and ready at the stir of a spoon? That's got to be worth celebrating!
Fill up on Free Food®
All our meals are based on Slimming World Free Food – nutritious, everyday foods that fill you up for fewer calories, meaning they're great for weight loss! Free Food includes lean meat, poultry, fish, eggs, pasta, rice, potatoes, pulses, fruit, veg and more. And you can eat these foods freely, making them perfect for satisfying the biggest of appetites. Some Free Foods have the extra bonus of being Speed Food – fruit and veg that are super-low in calories and keep you slimming beautifully. For the best results, always reach for Speed Food first in between meals and include at least a third of a plate of Speed Food at every meal, where it makes sense.
Add in Healthy Extras®
To help provide a good balance of nutrients, enjoy two measured portions of milk or cheese each day – your Healthy Extra 'a' choices. Options include 350ml skimmed milk or 250ml semi-skimmed milk; 40g reduced-fat or 30g full-fat hard cheese; 50g mozzarella (cow's milk); 45g feta or 35g Danish blue, which can be eaten as part of a meal or snack. Also have one portion of wholemeal bread or breakfast cereal each day – your Healthy Extra 'b' choice. To keep things simple we've built your Healthy Extra 'b' choice into the menu plan each day.
Choose your Syns®
Foods and drinks that pose a risk to your weight loss – those high in fat or sugar, as well as alcohol – can be enjoyed as carefully counted Syns. We recommend you plan between 5 and 15 Syns into your day (see the bottom of the next page for some ideas).
Make simple swaps
To help protect your weight loss, choose the leanest meats and trim off any visible fat – cut the white bits off bacon and remove skin from poultry. Dry-fry or cook with low-calorie cooking spray rather than fat or oil, switch sugar for sweetener, and swap cream and crème fraîche for fat-free natural yogurt or plain quark.
[easy-social-share counters=0 style="button" hide_mobile="yes" point_type="simple"] [easy-social-share buttons="facebook,pinterest,whatsapp" counters=0 style="button" only_mobile="yes" point_type="simple"]
Warning
: count(): Parameter must be an array or an object that implements Countable in
/home/customer/www/bestslimmingworld.com/public_html/wp-content/themes/flex-mag-edit/single.php
on line
230